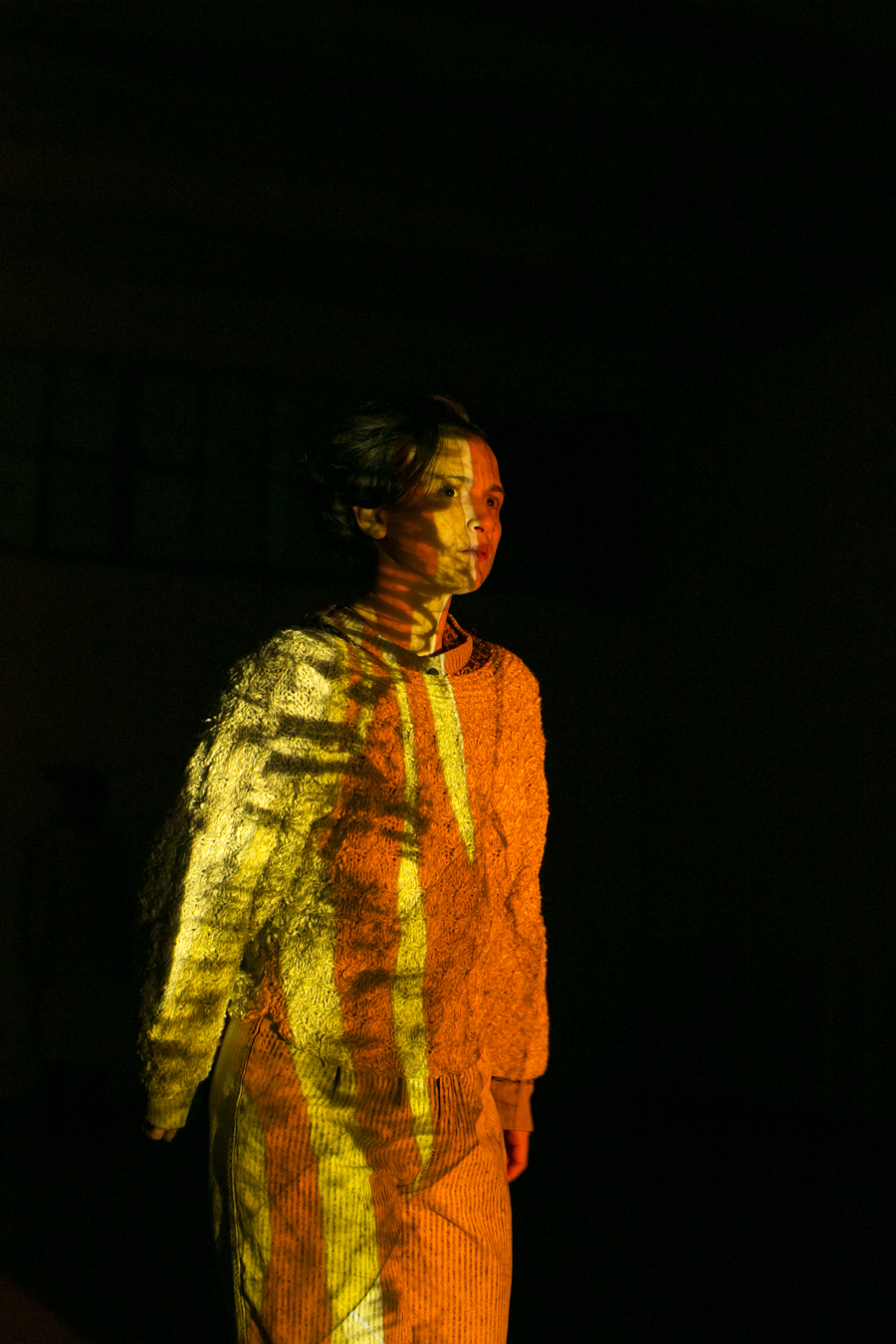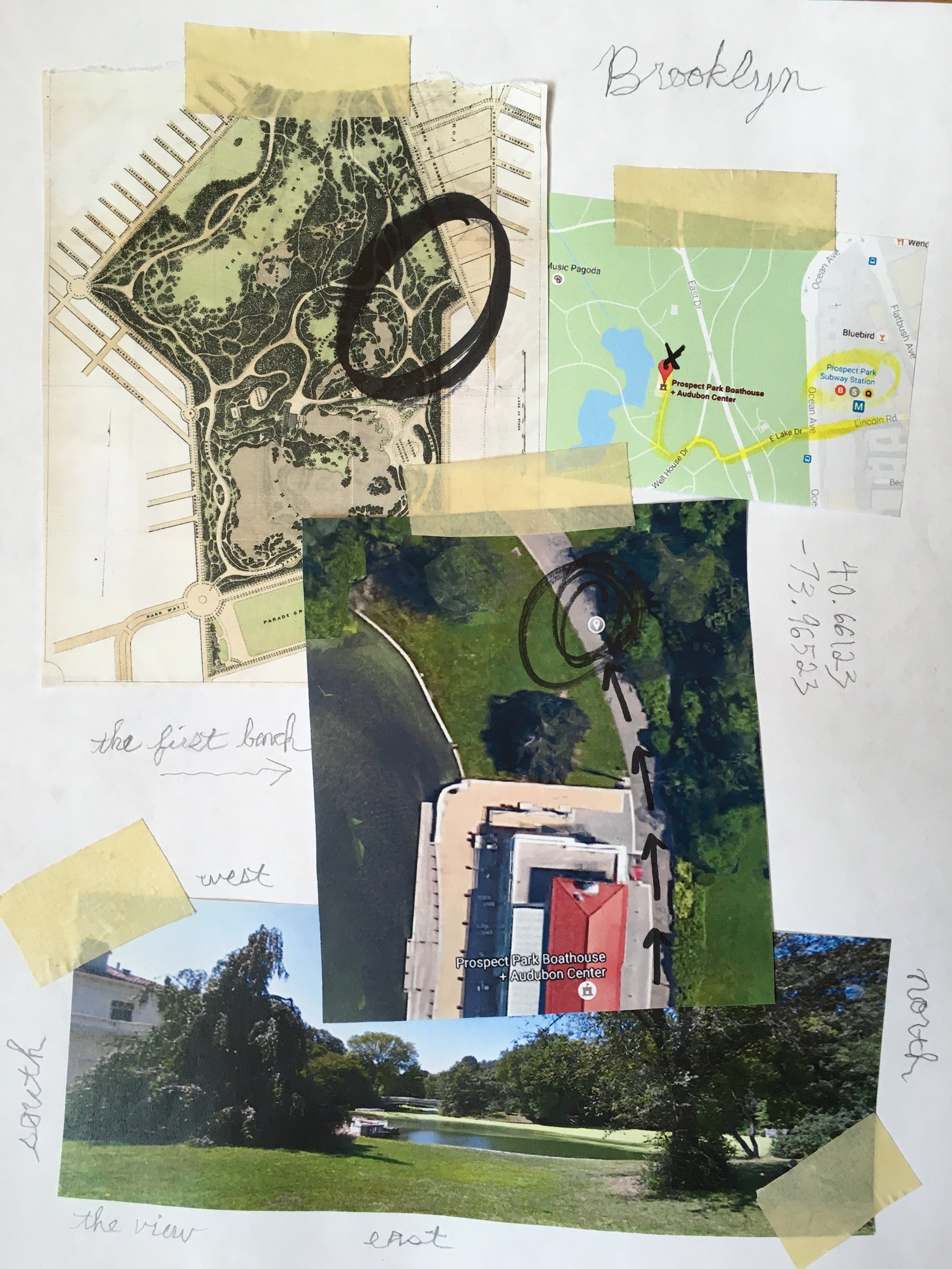 Pericles
Directing MFA Thesis Project, performed by the Brown Trinity MFA class of 2015 at the Pell Chaffee Performance Center in March, 2015.
Set: Deb O
Costumes: Cait O'Connor
Lights: Barbara Samuels
Sound: Michael Costagliola
Original music composed by Michael Costagliola. Stage managed by Sammi Haskell. Props by Molly Thuot.
"The show is a masterwork of Shakespearean theatre, bringing together a tight ensemble, a fascinating set, remarkable costuming, and overall an imaginative resetting of a wildly frenetic play." - The Brown Daily Herald
Brideshead Obliterated by Elise LeBreton
Brideshead Obliterated is Elise LeBreton's radical adaptation of the classic English novel Brideshead Revisited. It was presented as a workshop performance at Dixon Place in October 2017.
Sets: Dan Daly
Costumes: Suzan Eraslan
Lights: Jonathan Cottle
Sound: Joey Wolfslau
The Fall of All Atomic Angels by Zach Rufa
Part of the Bring a Weasel or a Pint of Your Own Blood Festival at the Public in July, 2017
Set: Heather Konish
Costumes: Sabrina Bianca Guillaume
Lights: Itohan Edoloyi
Sound: Joey Wolfslau
This play was written as Zach's MFA Thesis for Brooklyn College, in response to The Garden of Earthly Delights by Hieronymous Bosch. He envisions a post-apocalyptic nightclub where disabled is the new normal, along with unicorns and fish people. On the other hand, maybe it's all just seizure dreams brought on by a new course of treatment Skylar's undergoing...
The Stripperers by Eryk Aughenbaugh
Part of the Bring a Weasel or a Pint of Your Own Blood Festival at the Public in July, 2017
Set: Heather Konish
Costumes: Betsy Rugg-Hinds
Lights: Itohan Edoloyi
Sound: Joey Wolfslau
Child laborers who strip tobacco leaves to make cigars in 19th century New York stumble across a full page spread of Hieronymous Bosch's The Garden of Earthly Delights. They imagine what it might mean, and their visions come to life around them.
Antigonick by Anne Carson
A collaboration with shadow puppet artist Erik Ruin, performed at Panorama Space in Philadelphia in November, 2016. The staging combined three overhead projectors with shadow puppetry, illuminated cantastoria choruses, and original music for harp, violin, viola, electronics, and operatic soprano.
This performance was a benefit for the Youth Art and Self-Empowerment Project, Through its work in the Philadelphia jails, YASP provides space for incarcerated young people to express themselves creatively and to develop as leaders both within and beyond the prison walls. Young people who have been through the adult court system are at the forefront of YASP, leading the movement to keep teenagers out of adult prisons and to create new possibilities for youth around the city. For more info on YASP, visit www.yasproject.com.
Co-Direction and Art: Erik Ruin
Original Music: Myles Donovan and Lindsay Baukert
Space provided by Panorama Collective.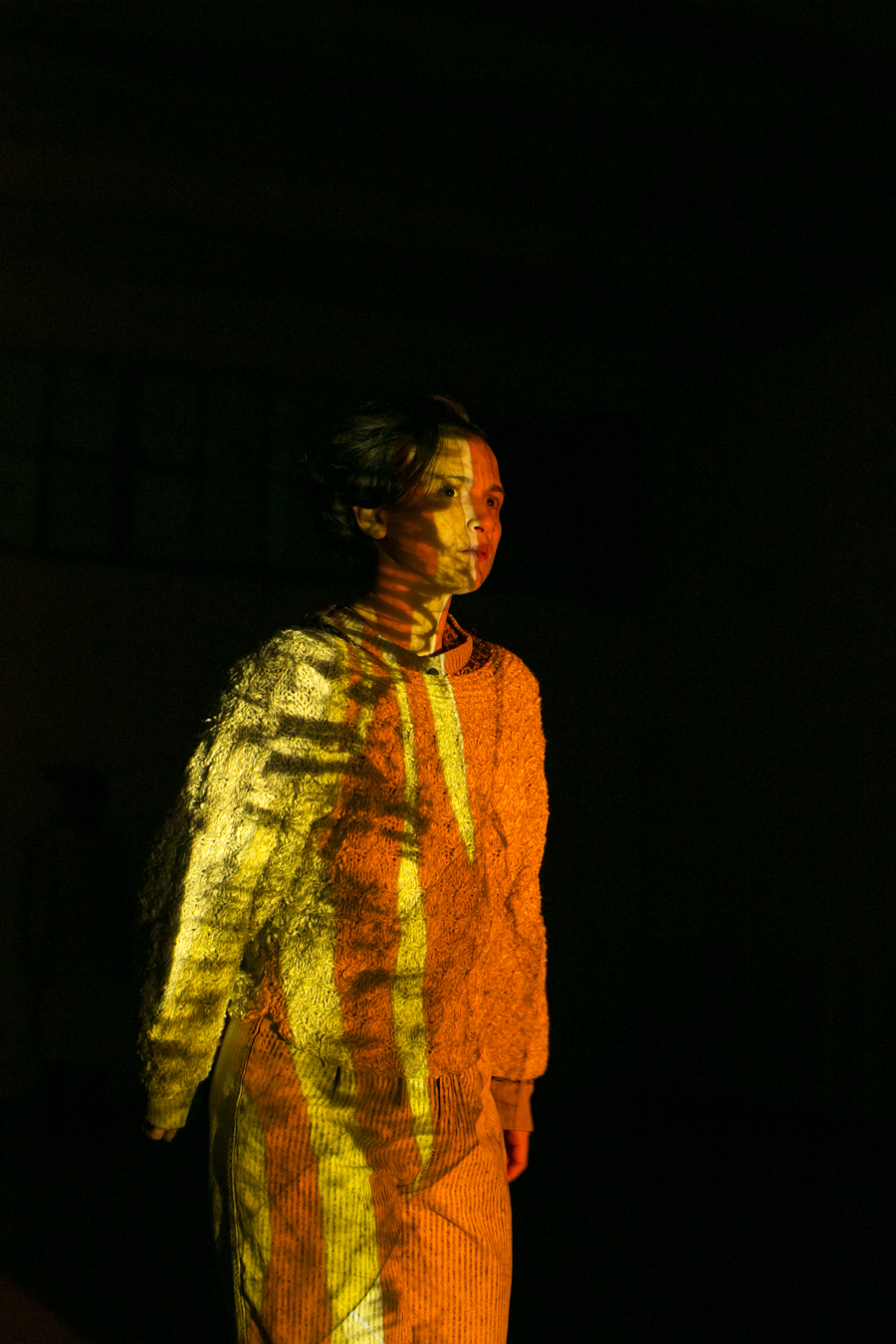 Old Bones by Elise LeBreton
An immersive, augmented reality play in three parts that leads you to Baba Yaga. Act 1 is a radioplay that guides you in a spell to summon her. Act 2 is a video-guided walk through Prospect Park to find her. Act 3 is a one-on-one immersive performance.

Produced by AntiMatter Collective in your bathroom, Prospect Park, and the Five Myles Gallery in October, 2016.
Set: Deb O
Card Art: Adam Scott Mazer
Radioplay Sound Design/Editing: Suzan Eraslan
Film DP: Jay Gillespie
Film AC: Jaime Medrano Jr.
Film Editor: Danny Clark
Film Costumes: Suzan Eraslan
Film Sound: Elias Spector-Zabusky
Production Design: Elise LeBreton
"AntiMatter Collective's latest performance expands the parameters of immersive theater in an exciting and original way...
Trekking through the depths of Prospect Park with an intriguing voice coming through your headphones is a rush as your aural abilities to the outside world are compromised and your other senses become heightened. I found myself jumping at the sounds of rustling leaves or snapped twigs. My inner horror-flick nerd lit up!" - Theatre is Easy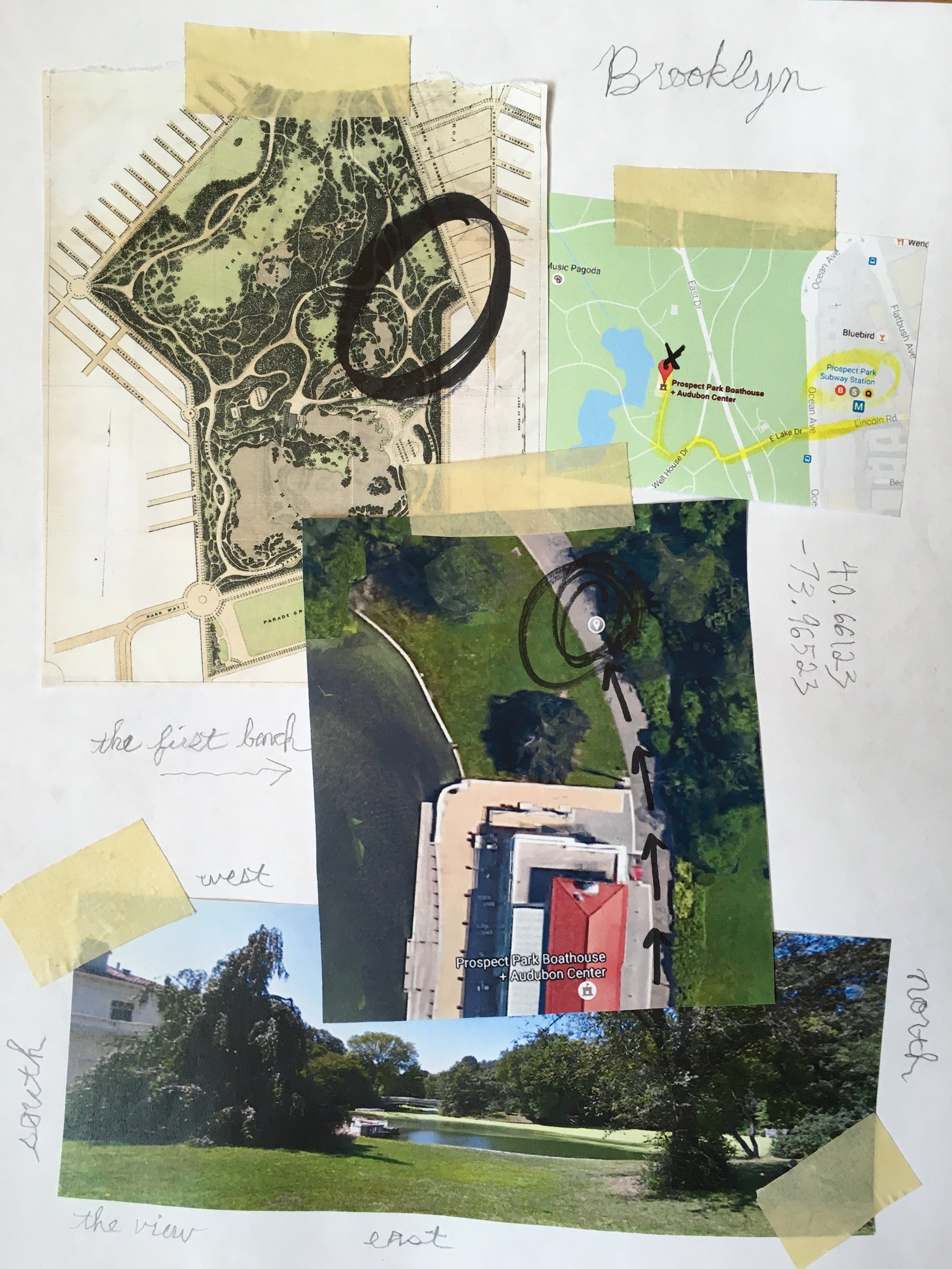 Tooth of Crime
Performed by the Brown Trinity MFA class of 2015 at the Pell Chaffee Performance Center in May, 2014.
Set: Deb O
Costumes: Cait O'Connor
Lights: Barbara Samuels
Sound: Matt Otto
Choreography: Kyle Vincent Terry
Original music composed by Andrew Polec, Max Wolkowitz, Ralph Johnson, Elise Hudson, and Sophie Netanel.
The Crazy Locomotive
Hangar Theatre Wedge Project, August 2015, part of the Drama League Summer Fellowship. Theater of the absurd by the Polish surrealist painter Stanislaw "Witkacy" Witkiewicz, two supervillains hijack a locomotive and push the throttle to maximum speed.
Set: Dan Daly
Costumes: Camilla Morrison
Lights: Topher Stumreiter
Sound: Garrett Hood
Original dubstep by Garrett Hood.
"Somehow Rogers was able to mount the chaos in a way that amplified the experience of watching the text performed. There were moments in Rogers' staging when everything, so cleanly orchestrated, lined up on a single beat to create a viscerally stunning experience." - Theatre is Easy
sixsixsix by Gregory S. Moss
Presented by AntiMatter as part of Demonology, set in a 20,000 sq-ft warehouse in Brooklyn. Staged as a station play around the audience, who were contained within a large chalk pentagram in the middle of the space. An earlier version was staged in a hotel suite at the AXA in Action Festival in Prague.
Set and masks: Pete Fallon
Lights: Jonathan Cottle
Costumes: Bevan Dunbar & Karen Boyer
Sound: Michael Costagliola
Flavorpill Editor Pick
"Director Dan Rogers' staging is aggressive and clever... Rogers creates a terse atmosphere where anything from comedy to depravity may happen..." – NYTheatre.com
Photos by Flordelino Lagundino and John Kalish.
Twelfth Night
Performed by the Brown Trinity MFA class of 2015 at the Pell Chaffee Performance Center in November, 2013. After its run at Trinity, it toured to arts centers and high schools across Rhode Island. The show was produced in rep with Much Ado about Nothing, directed by my classmate Flordelino Lagundino.
We shared a unit set designed to be a launching pad for storytelling based on physicalization, characterization, and activation of objects, in many ways similar to how we understand these texts were originally performed at the Globe in Early Modern England. The production was designed by the company, with Costumes by Whitney White (Maria), Original Music by Andrew Polec (Feste), Fight Choreography by Ian McNeely (Sir Toby) and Sophie Netanel (Viola), and Stage Management by Sammi Haskell.
"Thanks so much for bringing "Twelfth Night" to the Sandywoods Center for the Arts (SCA) in Tiverton this afternoon. It was really a fantastic production... Dan and the actors made such creative use of the SCA space, and integrated it into the performance – using the windows and doors to great effect, and incorporating our hurdy-gurdy and piano – brilliant!" – Russ Smith, Sandywood Center for the Arts, Tiverton RI
"OMG, OMG. Twelfth Night was AMAZING! Our students LOVED it! I LOVED it. Wow!" – Teacher at Classical High School, Providence RI
At the Hawk's Well
A part of the Hamilton Project Residency on Bass Harbor in Maine. Masks were designed by Jenna Horton, the Hawk was created by Byron Asher, the Old Man's costume was created by Elise LeBreton, and the Young Man's costume was created by Jabu Mickle-Molefe. Original music was composed by Byron Asher, with Dan Rogers and Ben Moniz. Choreography was created by Elise LeBreton.
All materials were sourced locally on the island, and all design, music composition, and staging was created by the company during one crazy week.
DEATH VALLEY by Adam Scott Mazer
A Western Horror play presented by AntiMatter at the Bushwick Starr in Brooklyn. It was originally developed as a 5-chapter serial play, a part of Vampire Cowboys' Saturday Night Saloon series. The show featured intense fight scenes, bizarre dream sequences, and, of course, gallons of blood and guts.
Set: Jonathan Cottle
Lights: Alana Jacoby
Costumes: Bevan Dunbar & Karen Boyer
Zombies: Alexandra Hellquist
Gore and FX: Stephanie Cox-Williams
Sound: Will Fulton
NYTheatre.com Indie Pick, BackStage Critic's Pick, FlavorPill Editor Pick
"Dan Rogers's direction is overall very effective. He creatively utilizes every moment on stage incorporating elements of movement, sound, and lighting into scene transitions. Rogers does a wonderful job of blending both the Western and Zombie genres into a vivid, visceral and aesthetically theatrical experience." - Hilary Bettis, Off Off Online